"They have eaten his banquet and now they will want to sweep him out with the rushes and the bones. But this was his table: he runs on the top of it, among the broken meats. Let them try to pull him down. They will find him armoured, they will find him entrenched, they will find him stuck like a limpet to the future" (Thomas Cromwell ponders his destiny in Hilary Mantel's, Bringing up the Bodies)
There must be a German word for the way you feel when a novel that you have been completely immersed in ends, maybe 'book bereft' or something along those lines. Hilary Mantel's final book in the Wolf Hall trilogy 'The Mirror and the Light' was widely anticipated and took the author eight years to finish. And it is an astounding read. I savoured every morsel, of every word and chewed on its bones for a long time afterwards.
Mantel's in-depth portrait of Thomas Cromwell and life in Henry's court is as rich as it is stark. Meticulously researched, it unpicks the intricacies of class, honour and gender politics with such a unique and authentic voice, that at times you feel you are reading transcripts rather than fiction. Each sentence becomes a single thread and when woven together the effect is so immersive, it is like stepping into of those epic Flemish tapestries, hanging on the castle walls to keep out the draughts. Looking at Holbein's portrait of Cromwell, we search for details about the sitter. His gaze is pensive, stern, diverted. He is surrounded by his parchments and a feather quill sits across a pair of scissors, both of which rest on green fabric, perhaps velour or wool. We know Cromwell loved his textiles, perhaps this is also why we see a patterned rug or blanket rolled up and sitting to his right hand side. A fur trimmed collar and turquoise ring symbolise power, position and wealth. When Mantel began this trilogy she said she gazed at this painting and could see the thuggery, a darkness in him. She could also see a character and a story worth developing more fully.
Henry's court was a tumultuous time in British history and politics. The English reformation brought huge uncertainty into everyday life as the ancient abbeys were brutally dismantled and swathes of their lands portioned off and allocated to Henry's cronies. After the break with Rome, there began to be a culture of deep mistrust and confusion inside court, which continued on for several decades. The old relics of saints were tossed out in favour of a new kind of temporary reverence to newer, living bones. A perpetual clamouring for Henry's favour meant many stood on the shifting sands of fortune: one week you are a close confidante, the next your head is on the block. Mantel paints with fine brushstrokes this toxic yet also intoxicating atmosphere. By the third novel we have accompanied Cromwell's gradual rise and then the inevitable downward spiral of this epic schemer. In the words of Velma Kelly in Chicago: 'he had it comin'.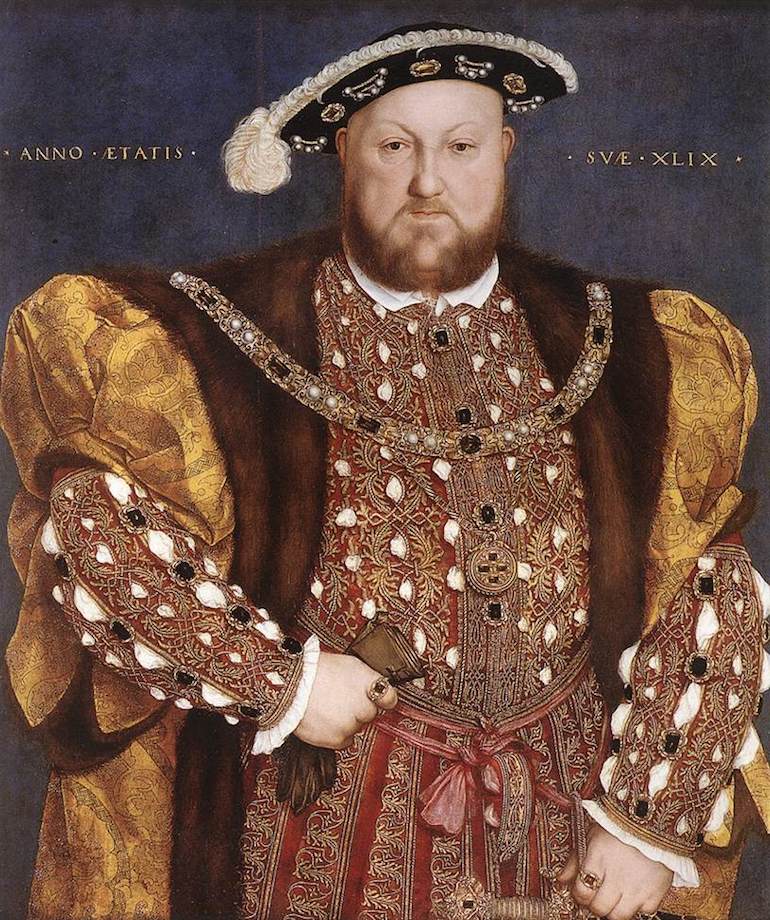 Mantel's skill is apparent when at times you have to remind yourself that although the truth is decorated like one of Henry's brocade tunics, the novels are based on actual events, families, people. Before reading the trilogy, I hadn't heard of Cromwell and knew little of this story, except for the famous headline (pardon the pun) of Henry's penchant for getting new wives after mercilessly dispatching the old ones. Mantel's novels are filled with the other real life tales of love and loss that sit in the archives and haven't made it into official accounts but are still nonetheless part of this bloody time in UK politics.That there are many (many) versions of one story, depending on your perspective seems an obvious thing to say about about fiction yet of course it applies to history too. Facts are facts: yet how the truth is spun, overlooked, deliberately misremembered and reinterpreted at later dates, means an endless act of untangling for modern historians.
Yet recent public discourse on how we collectively remember or commemorate historical figures has shown just how wilfully ignorant many are to Britain's deeply racist history either told in classroom textbooks or cast in bronze atop of plinths. The ongoing debate about statues is long overdue here and I am reminded of my trip to Budapest a few years back when I mused on this same subject, after visiting a sculpture park of abandoned Communist statues outside the city. At Memento Park these objects are acknowledged to be part of the city's history, yet of course it was completely untenable that they could stay where they were in the city, acting as everyday reminders to the populace of a past dictatorship and occupying force.
Taking those ideas forward, in the case of what happened in Bristol to Edward Colston this month, I am all in favour for direct action, recognising too that hauling down statues is as symbolic an act as the objects themselves. Let's be honest, if that is the extent of the civil disobedience on show, then I am happy to see any statue commemorating a murderous slave trader to be quite literally tossed in to the sea (see my previous quote by Velma Kelly). The bigger question to me though was, why on earth was it (and others) still up on a plinth in 2020? The previous collective national shrug proves as David Olusoga says 'in Britain, history is a place of recreation and comfort, not a place where we ask difficult questions'. After the statue was pulled down, Twitter seemed to be alive with the 'yes BUT Britain abolished slavery' brigade, who after wiping the spittle from the side of their mouths, ran off to hug a William Wilberforce statue. I would instead point them in the direction of this short video, or information on the much earlier abolition campaign of Olaudah Equiano. I also hope that these recent protests and subsequent discussions are the beginning of a much more uncomfortable and honest public conversation about Britain's brutal history in relation to empire and beyond.
The stories about Henry and Cromwell held in Mantel's pages left a trail of disquiet in my mind. Why? It's not an account of history that I am used to. It is an unmasking of myth. It is not comforting but rooted in fact, told via multiple accounts, with deep and detailed descriptions and stories, with a compelling narrative at its core. Cromwell and the cast of characters in his circle are given depth and complexity yet that doesn't make his documented brutality any more palatable. In fact it makes it all the more visceral and at times, shocking. A call then for a more embodied excavation of other parts of British history too and by that I mean less of the cold, cast metal narratives interpreted through the lens of white privilege. Instead there needs to be a foregrounding of the human experiences, unheard voices, more on the real flesh and bones found within these varied and complex histories. It's time for less gloss and a more unvarnished truth.
More links
David Olusoga's article on the Bristol protests in the Guardian
Black and British: A Forgotten History (iPlayer link)
Tudor history
The Downfall of Thomas Cromwell